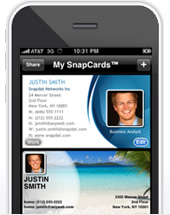 Send & Receive your Contact Information in a Snap.
We've made mobile contact sharing amazingly simple and fast. With SnapDat™, you just launch, select & send! It's that easy. It's that fast. If your contact has SnapDat™, they'll get your SnapCard™ in an instant. If they don't, you can still use SnapDat™! Just go with "Plan B" and you can email a vCard instead - - we'll even include an image of your SnapCard™!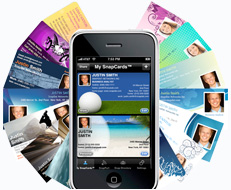 Present Yourself.
First impressions count. With SnapDat™, you can present yourself & your contact information in a manner that suits the moment. Whether it's an important business event or a casual social outing, SnapDat™ has you covered with over 40 different SnapCard™ Designs - - each with their own unique style, layout & font. If you're looking for a SnapCard™ that's trendy, understated, edgy or strictly business – we've got it. Download your free version of SnapDat™ & start designing your SnapCards™ now.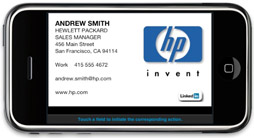 Insert your company logo.
SnapDat™ provides multiple design layouts expressly for inserting your organization's logo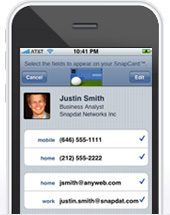 Profile your Contact Info with SnapCards™. Send what you want, when you want.
Need a SnapCard™ for professional contacts? What about a one that's more personal? It's easy. Just choose the info you want on a SnapCard™, select a design & you're done. You can create & save as many SnapCards™ as you need. Want to recommend a good mechanic? No problem, you can even create a SnapCard™ for anyone in your address book.So the next time you meet someone, simply launch, tap the SnapCard that's appropriate & send!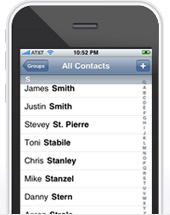 Integration with the iPhone Address Book.
Each time a new SnapCard is received, all the contact data (and even the profile picture) is written instantly to the iPhone Address book, ready to be recalled or synched to your home or office computer. Even more, we've included an import function in the Create Card Screen which allows you to automatically pull in all your contact data from the iPhone Address book. Want to share the contact information of your real estate agent or perhaps, a co-worker? Create a SnapCard for them as well. At SnapDat™, our goal is to prevent you from ever having to manually enter contact info again.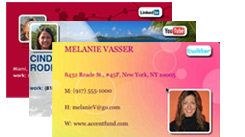 Link to YouTube, Twitter and Social Network Sites.
Embed a link to your Twitter blog, LinkedIn, MySpace and Plaxo pages or a YouTube video.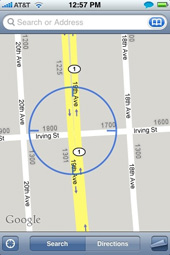 Locate where your exchanges took place.
Never forget where & when you met someone with our new GeoStamp mapping feature.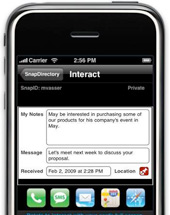 Add personal notes and messages.
Include a message when exchanging SnapCards™ as well as add your own reminder notes to a received SnapCard™.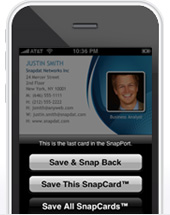 Someone just Snapped you? Instantly respond with SnapBack.
If another SnapDat™ user snaps you their card, you can instantly return the favor by selecting "SnapBack" – a function that instantly brings up a list of your SnapCards™. All you have to do is tap the SnapCard you want to send & you're done!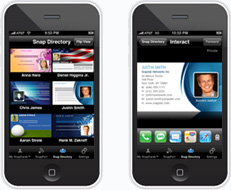 Browse and Interact with your Contacts in Snap Directory.
SnapDat™ also incorporates powerful contact management features via the Snap Directory - - a sortable, searchable & dynamic view of all your SnapCards™. Snap Directory supports both List & Thumbnail views. Select a card in the Snap Directory & it instantly becomes dynamic, allowing you to access phone, text message, email, maps & browser capabilities directly within SnapDat™. Send a text to your business partner, call a potential customer or go to your friends LinkedIn page - - all directly from their SnapCard.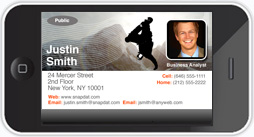 Go Public with your SnapCard.
Networking is important to anyone's business – but for many, it's absolutely essential. With SnapDat™, you can designate any one of your SnapCards™ as a "Public" Card. By default, all SnapCards are private, preventing a recipient from ever forwarding your card to someone else. But if you wish, you can designate one or any of your SnapCards™ as "Public" granting any recipient the ability to forward your SnapCard as easily as they can send theirs. So if your business hinges on referrals or critical word of mouth, consider a Public SnapCard – and empower your network to refer your services with SnapDat™.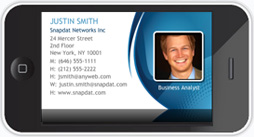 View your SnapCards™ on the Big Screen.
Select a card, tilt your iPhone into Landscape Orientation & you can view and swipe through your Snap Directory in full widescreen view. In Landscape mode, we've even made the links active. Simply click a phone number to make a call or an address to pull up a Google map.